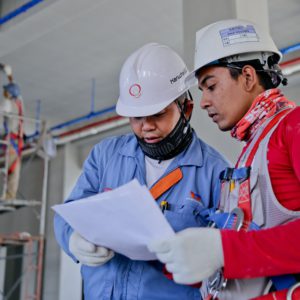 In the Field of Constructions, There are Tons and tons of Files that needs to be shared within the Team and Get the Approval.
As you get more and more contracts, it becomes really difficult to manage all the design and construction documents in a single place
Imagine, If the files are being stored in the System and if something goes wrong to the system, all the files and documents wouldn't be recovered anymore
So it's very crucial that the files are stored in a highly encrypted cloud storage so that it would be still accessible from any device, anytime!
Whether you are in the office or at your home, all your Files will be accessible to you at your fingertips.
As soon as you want to send a particular file to your Team Members or your clients, you can do it in a matter of 10 seconds
And the Best thing is, you can also add your Unlimited number of Members and Clients to the portal regardless of the plan you choose.
QCP was specifically designed to make the Construction process Faster and Easier.
Why do Construction Companies love using Quick Client Portal?
By the time we are writing this, we have received tons of email from Construction Companies thanking us How QCP helped them to access their Business Files instantly and Made their Work Lots Easier.
Here are some of the Key points what they are telling about Quick Client Portal
Easy to Use Platform
QCP Platform is Very Simple and Easy-to-use. It offers multiple Document Section which allows you to give Level-wise permission to your team members and Certain access to your Clients.
QCP Allows you to :
Store your Files in a Secure Cloud Storage

Allows you to Manage all the Clients Documents and Business Documents in a single place.

Access the Files From anywhere in the world

Share and receive Documents instantly
Professional Portal
QCP was Built by Keeping Construction Companies in mind. Quick Client Portal allows you to handle all your Business and Clients Documents Professionally and efficiently.
You can Give also Level-wise role to your Team Members and add Add Multiple Clients to your Portal which makes it really easy to share and receive Files.
Themes
QCP has multiple theme integrations which makes it easy for you to make your Portal's Look and Feel according to your Convenience.
Along with the Theme colour, QCP also provides multiple portal styles and Layouts.
Smart way to speed up your Construction Process
Access Remotely
Online Document Storage QCP allows you to store the documents to your portal so you can easily access remotely.
Customization and Branding
Customized Client Portal Securely request and share files to individual client or group with your branded client portal which includes built-in document stora